time to read 2 min | 253 words
---
A customer complained that every now and then RavenDB is hitting 100% CPU and stays there. They were kind enough to provide a minidump, and I started the investigation.
I loaded the minidump to WinDB and started debugging. The first thing you do with high CPU is rung the "!runaway" command, which sorts the threads by how busy they are: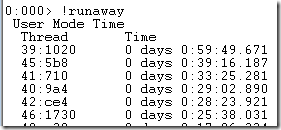 I switched to the first thread (39) and asked for its stack, I highlighted the interesting parts:
This is enough to have a strong suspicion on what is going on. I checked some of the other high CPU threads and my suspicion was confirmed, but even from this single stack trace it is enough.
Pretty much whenever you see a thread doing high CPU within the Dictionary class it means that you are accessing it in a concurrent manner. This is unsafe, and may lead to strange effects. One of them being an infinite loop.
In this case, several threads were caught in this infinite loop. The stack trace also told us where in RavenDB we are doing this, and from there we could confirm that indeed, there is a rare set of circumstances that can cause a timer to fire fast enough that the previous timer didn't have a chance to complete, and both of these timers will modify the same dictionary, causing the issue.
---