time to read 4 min | 602 words
---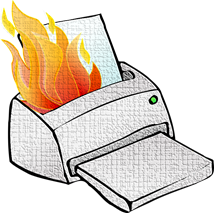 I spoke about this in the video, and it seems to have caught a lot of people yes, so I thought that I would talk here a bit how we trace the root cause of a RavenDB critical issue to a printer being out of paper.
What is the relationship, I can hear you ask, between RavenDB, a document database, and a printer being out of paper? That is a good question. The answer is pretty much none. There is no DocPrint module inside of RavenDB and the last time yours truly wrote printer code was over fifteen years ago. But the story started, like all good tech stories, with a phone call. An inconveniently timed phone call, I might add.
Imagine, the year is 2013, and I'm enjoying the best part of the year, December. I love December for a few reasons. I was born in it, and it is a time where pretty much all our customers are busy doing other stuff and we can focus on pure development. So imagine my surprise when, on the other side of the line, I got a pretty upset admin that had to troubleshoot a RavenDB instance that would refuse to start. To make things interesting, this admin had drawn the short straw, I assume, and had to man the IT department while everyone else was on vacation. He had no relation to RavenDB during normal operations and only had the bare minimum information about it.
The symptoms were clear, luckily. RavenDB would simply refuse to start, hanging almost immediately, it seemed. No network access, nothing in the logs to indicate a problem. Just… hanging…
Here is the stack trace that we captured:
And that was… it. We started to look into it, and we run into this StackOverflow question, which was awesome. Indeed, restarting the print spooler would fix the problem and RavenDB would immediately start running. But I couldn't leave it like this, and I guess the admin on the other side was kinda bored, because he went along with my investigation.
We now have access to the code (we didn't in 2013) and can look at exactly what is going on. This comment had me… upset:

The service manager in Windows will consider any service that didn't finish initialization in 30 seconds to be failed and kill it. You might be putting the things together at this point?
After restarting the print spooler, we were able to start RavenDB, but restarting it cause another failure. Eventually we tracked it down to a network printer that was out of paper (presumably no one in the office to notice / fill it up). My assumption is that the print spooler was holding a register key hostage while making a network call to the printer that would time out because it didn't have any paper. If at that time you would attempt to use a performance counter, you would hang, and if you are running as service, would be killed.
I'm left with nothing to do but quote Leslie Lamport:
A distributed system is one in which the failure of a computer you didn't even know existed can render your own computer unusable.
Oh so true.
We ended up ditching performance counters entirely after running into so many issues around them. As of 2017, people were still running into this issue, so I think that was a great decision.
---