time to read 1 min | 193 words
---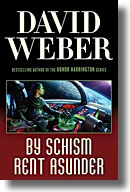 Okay, I just finished listening to this book. It was... hard to describe. The book itself is excellent, the sheer quality of the world that Weber paints is flat out amazing.
I really liked the amount of sheer magnificence that is going on there. The number of balls that Weber manages to keep in the air is impressive.
There is just one issue with this book. It is a setup.
That is, it lay down the ground for the next book, By Heresies Distressed. Which sounds like it would be action filled. I hoped for a more interesting ending, because it feels like the story just hit its stride and is ready for action when it is over.
By Heresies Distressed, the next book, is supposed to be released in early 2009, which supports my assumption that this a case where we have a single story, but in two books.
Highly recommended, and I am going to re-read it now in text format, to give you an idea of high high the quality of the book is.
---