time to read 7 min | 1335 words
---
Yes, I am aware that I said that I would only have two more feature for NH Prof before releasing. But I am currently being held hostage by the new features fairy, and negotiations over a feature freeze seems to have gotten to a stand still. Beside, it is a neat feature.
The actual feature is quite simple. Let us say that we have the following model: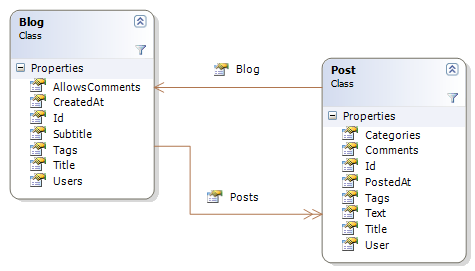 Notice that this is a very common case of bidirectional association, and this is mapped to the following table model:
Notice that while on the object model this is a bidirectional association and is maintained by two different places, it is maintained on a single place in the database.
This is a a very common case, and quite a few people get it wrong. By default, NHibernate has to assume that it must update the column on both sides, so creating a new post and adding it to the Blog's Posts collection will result in two statements being written to the database:
   1: INSERT INTO Posts(Title,

   2:                   Text,

   3:                   PostedAt,

   4:                   BlogId,

   5:                   UserId)

   6: VALUES     ('vam' /* @p0 */,

   7:             'abc' /* @p1 */,

   8:             '1/17/2009 5:28:52 PM' /* @p2 */,

   9:             1 /* @p3 */,

  10:             1 /* @p4 */);

  11: select SCOPE_IDENTITY ( )

  12:  

  13: UPDATE Posts

  14: SET    BlogId = 1 /* @p0_0 */

  15: WHERE  Id = 22 /* @p1_0 */
As you can see, we are actually setting the BlogId to the same value, twice.
Now, there is a very easy fix for this issue, all you have to do is to tell NHibernate on the Blog's Posts mapping that this is a collection where the responsibility for actually updating the column value is on the other side. This is also something that I tend to check in code reviews quite often. The fix is literally just specifying inverse='true' on the <many-to-one> association.
And now NH Prof will detect and warn about such cased:

Beautiful!
This is also the first case in which I am starting to do much more in depth analysis of what is actually going on with NHibernate. I planned to do this sort of thing after the v1.0 release, but as I said, I am held hostage by the new features fairy, and this is my negotiation technique :-)
---