time to read 24 min | 4735 words
---
Okay, I built it to relax a bit, because I am extremely annoyed at the moment. I apologize in advance for the code quality, it is POC only, but still, I wouldn't generally release it like this.
What is this? Do you see the highlighted bit at the bottom? This is Boo code that invokes a Macro on compile. It will generate an adapter and an interface, so you don't have to do it manually. The implementation code is below: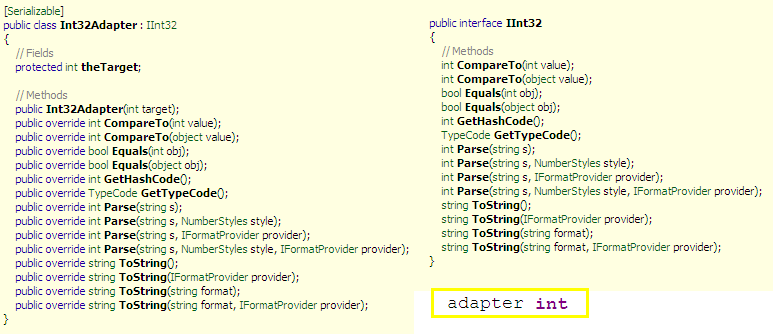 class AdapterMacro(AbstractAstMacro):
      def Expand(macro as MacroStatement):
            if macro.Arguments.Count != 1 or not macro.Arguments[0] isa ReferenceExpression:
                  raise "adapter must be called with a single argument"
            entity = NameResolutionService.Resolve(macro.Arguments[0].ToString())
            raise "adapter only accept types" unless entity.EntityType == EntityType.Type
            BuildType(macro, entity)
      def GetModule(node as Node) as Boo.Lang.Compiler.Ast.Module:
            return node if node isa Boo.Lang.Compiler.Ast.Module
            return GetModule(node.ParentNode)
      def BuildType(macro as MacroStatement, type as IType):
            adapter = ClassDefinition(Name: "${type.Name}Adapter")
            adapter.Members.Extend(
                  Field(Name: "theTarget", Type: SimpleTypeReference(type.FullName) )
            )
            ctor = Constructor()
            ctor.Parameters.Add(ParameterDeclaration("target", SimpleTypeReference(type.FullName) ) )
            ctor.Body.Add(
                  BinaryExpression(BinaryOperatorType.Assign,
                        ReferenceExpression("theTarget"),
                        ReferenceExpression(Name: "target")
                  )
            )
            adapter.Members.Add(ctor)
            adapterInterface = InterfaceDefinition(Name: "I${type.Name}")
            GetModule(macro).Members.Add(adapter)
            GetModule(macro).Members.Add(adapterInterface)
            adapter.BaseTypes.Add( SimpleTypeReference(adapterInterface.FullName) )
            for member in type.GetMembers():
                  AddMethod(adapter, adapterInterface,  member) if member isa IMethod
            BooPrinterVisitor(System.Console.Out).Visit(adapterInterface)
            BooPrinterVisitor(System.Console.Out).Visit(adapter)
      def AddMethod(adapter as ClassDefinition,
            adapterInterface as InterfaceDefinition,
            method as IMethod):
            return unless method.IsPublic
            interfaceMethod = Method(Name: method.Name)
            forwarder = Method(Name: method.Name)
            if method.ReturnType.IsByRef or method.ReturnType.IsArray:
                  return
            args = []
            for param in method.GetParameters():
                  if param.IsByRef or param.Type.IsArray:
                        return
                  forwarder.Parameters.Extend(
                        ParameterDeclaration(
                              Name: param.Name,
                              Type: SimpleTypeReference(param.Type.FullName)
                              )
                        )
                  interfaceMethod.Parameters.Extend(
                        ParameterDeclaration(
                              Name: param.Name,
                              Type: SimpleTypeReference(param.Type.FullName)
                              )
                        )
                  args.Add( ReferenceExpression(param.Name) )
            adapterInterface.Members.Add(interfaceMethod)
            adapter.Members.Add(forwarder)
            mie = MethodInvocationExpression(
                  Target: AstUtil.CreateReferenceExpression("theTarget.${method.Name}")
                  )
            mie.Arguments.Extend(args)
            forwarder.ReturnType = SimpleTypeReference(method.ReturnType.FullName)
            interfaceMethod.ReturnType = SimpleTypeReference(method.ReturnType.FullName)
            if method.ReturnType == typeof(void):
                  forwarder.Body.Add(mie)
            else:
                  forwarder.Body.Add(ReturnStatement(mie))
---