time to read 3 min | 429 words
---
Note, this post was written by Federico.
In my last post we talked about the cost of throwing and catching exceptions at the caller site. Some are straightforward and easily seen like the code complexity, but others are a bit deeper, like for instance how the code ends up like that (we will talk about that, but not just yet). Today we will focus on what to do when we control the call-site and are in a performance sensitive hot-spot.
There are 2 important assumptions here:
You own the code
You are in a hot-spot
If either one of these two is not true, then this is of zero importance or you are screwed.

So let's modify our code a bit (check in yesterday's post if you don't remember the details). In order to achieve the same result we will resort to a very well-known pattern that I like to call TryXXX. Many instance of such optimizations are visible in the .Net Framework like the famous int.TryParse method. Apparently someone during the course of using v1.0 (or v1.1) of the Framework figured out that the cost of exception handling for certain scenarios was a bit too much. We probably won't know who was, but we can all be glad they have fixed it; even though we have to live with an exception based implementation (borrowed from Java style?) as obsolete code since then.
So let's see how the code would look.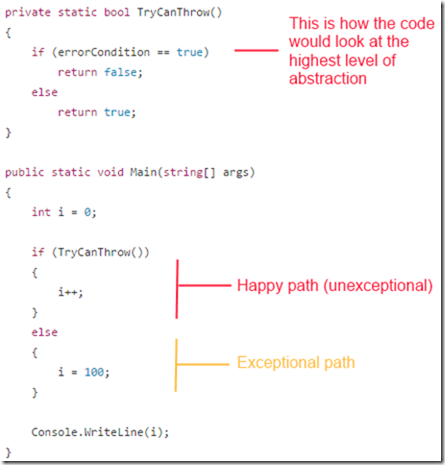 Pretty straightforward I might say. Now the interesting thing is what happens at the assembler level:
Even under shallow review, we can conclude that this code is definitely faster than the alternative. Now what did we win against the try-catch version? Essentially, we don't have a prolog and an epilog in case of the choosing the exceptional path, that's faster than having to execute such code. The exception case also does not have to deal with non-local effects caused by unwinding the stack; but we are forced to have a hierarchy of TryXXX methods if that goes deep (the alternative of using exceptions for readability is not great either).
Now in this code we have the first glimpse of evidence of a few JIT design choices (and some current restrictions too) that are important performance wise and we will discuss them in future posts.
---