time to read 7 min | 1205 words
---
I just finished testing an annoying but important feature, NHibernate's second level cache integration with Rhino Security. The security rules are a natural candidate for caching, since they change to change on an infrequent basis but are queried often. As such, it is obvious why I spent time ensuring that the whole thing works successfully.
At any rate, what I wanted to talk about today was structure of the framework. You can see the table layout below.
A few things to note:
The tables are all in the "security" schema, I find that it makes more sense this way, but you can set it to work with "security_Operation" if you really like (or the DB doesn't support schemas).
User is referenced a few times, but is not shown here. As I mentioned earlier, the user entity is an external concept. We are using the mapping rewriting technique that we discussed earlier.
(more below)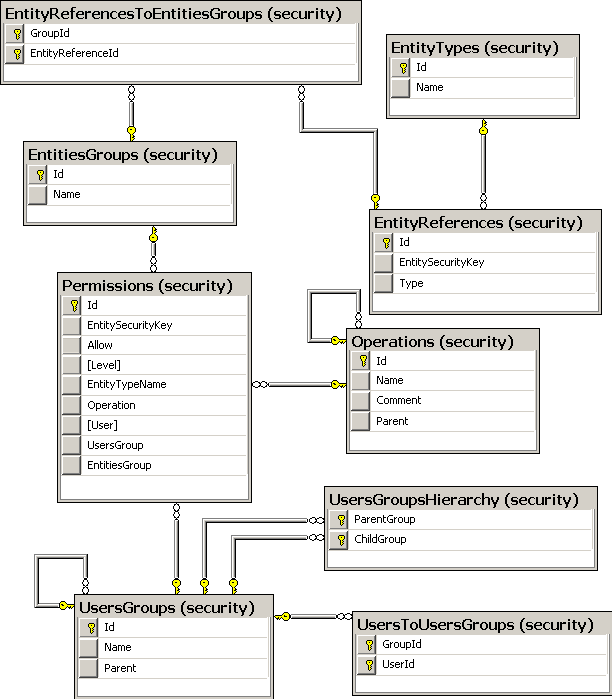 Here is the main interface for Rhino Security:

The tasks it performs are:
Enhance a query with security information.
Get an explanation about why permission was given / denied.
Perform an explicit permission check on entity or feature.
The last two are fairly easy to understand, but what does the last one means? It means that if I want to perform a "select * from accounts" and I enhance the query, I will give this baby:
SELECT THIS_.ID          AS ID4_0_,

       THIS_.SECURITYKEY AS SECURITY2_4_0_,

       THIS_.NAME        AS NAME4_0_

FROM   ACCOUNTS THIS_

WHERE  @p0 = (SELECT   THIS_0_.ALLOW AS Y0_

              FROM     SECURITY_PERMISSIONS THIS_0_

                       INNER JOIN SECURITY_OPERATIONS OP1_

                         ON THIS_0_.OPERATION = OP1_.ID

                       LEFT OUTER JOIN SECURITY_ENTITIESGROUPS ENTITYGROU2_

                         ON THIS_0_.ENTITIESGROUP = ENTITYGROU2_.ID

                       LEFT OUTER JOIN SECURITY_ENTITYREFERENCESTOENTITIESGROUPS ENTITIES7_

                         ON ENTITYGROU2_.ID = ENTITIES7_.GROUPID

                       LEFT OUTER JOIN SECURITY_ENTITYREFERENCES ENTITYKEY3_

                         ON ENTITIES7_.ENTITYREFERENCEID = ENTITYKEY3_.ID

              WHERE    OP1_.NAME IN (@p1,@p2)

                       AND (THIS_0_."User" = @p3

                             OR THIS_0_.USERSGROUP IN (@p4))

                       AND ((THIS_.SECURITYKEY = THIS_0_.ENTITYSECURITYKEY

                              OR THIS_.SECURITYKEY = ENTITYKEY3_.ENTITYSECURITYKEY)

                             OR (THIS_0_.ENTITYSECURITYKEY IS NULL

                                 AND THIS_0_.ENTITIESGROUP IS NULL))

              ORDER BY THIS_0_.LEVEL DESC,

                       THIS_0_.ALLOW ASC);
Isn't it cute?  This is much better than some home grown security system that I have seen (some of which I have built, actually), since it is stable with regards to the cost of the query that it will use. I mention before that it is possible to de-normalize the information into a single table, but since this requires more invasive approach from the application side, and since I have not seen performance issues with this yet, I'll leave it at this point for the moment.
Advance: Working with non DB backed users
In most applications, the user is a fully fledged entity, even if your authentication is elsewhere. Just keeping things like preferences will necessitate that, but let us assume that we really have that as a non DB entity.
In this case, we would need to make modifications to the tables (which we generally do, anyway, although automatically), and re-map the user references as an IUserType that can get the user from an id instead of a foreign key to entity. I think I'll wait until someone really needs it to make a demo of it.
Anyway, this is the main magic. It was fairly hard to get it right, as a matter of fact. But the query enhancement was one of the things that made security a breeze in my last project. We had a custom security module, but many of the concepts are the same.
The next part we will talk a bit about the IsAllowed and how that works. There is some nice magic there as well.
---