time to read 1 min | 169 words
---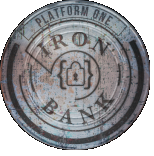 If you are using RavenDB for defense projects, we have got good news for you. RavenDB is now available on Iron Bank, making it that much easier to make use of RavenDB in defense or high security projects.
Iron Bank is the DoD repository of digitally signed, binary container images including both Free and Open-Source software (FOSS) and Commercial off-the-shelf (COTS). All artifacts are hardened according to the Container Hardening Guide. Containers accredited in Iron Bank have DoD-wide reciprocity across classifications.
RavenDB has a history of focusing on (usable) security and making sure that your systems are secured by default and in practice. Now it is even easier to make use of RavenDB in projects that are required to meet the DoD standards. Note that you get the exact same codebase and configuration that you'll get from the usual RavenDB distribution, it has simply been audited and approved by Iron Bank.
---