time to read 2 min | 221 words
---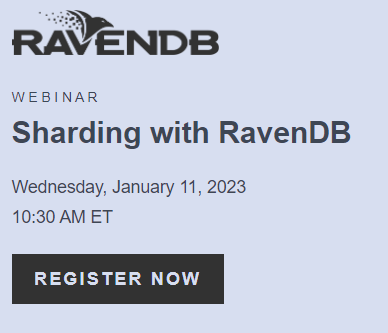 This Wednesday I'm going to be doing a webinar about RavenDB & Sharding. This is going to be the flagship feature for RavenDB 6.0 and I'm really excited to be talking about it in public finally.
Sharding involves splitting your data into multiple nodes. Similar to having different volumes of a single encyclopedia.
RavenDB's sharding implementation is something that we have spent the past three or four years working on. That has been quite a saga to get it out. The primary issue is that we want to achieve two competing goals:
Allow you to scale the amount of data you have to near infinite levels.
Ensure that RavenDB remains simple to use and operate.
The first goal is actually fairly easy and straightforward. It is the second part that made things complicated. After a lot of work, I believe that we have a really good solution at hand.
In the webinar, I'm going to be presenting how RavenDB 6.0 implements sharding, the behavior of the system at scale, and all the details you need to know about how it works under the cover.
I'm really excited to finally be able to show off the great work of the team! Join me, it's going to be really interesting.
---